Hi loves! I'm sure you know by now that I am constantly re-arranging and re-purposing furniture throughout my home and my workspace is not exception. I've lost track of the times that I've shared a new set up for this room but this one really is my favorite so far 😀

I've known from the beginning that this desk is way to big to be in the center of this room but I just hate having it up against the wall with my back towards everything. I came up with a solution to that, I added a mirror behind the desk! I know it might seem a little silly and defeats the purpose of having a mirror but it actually gives me illusion that my back isn't towards everything because I can see the
entire room :D, plus it look really pretty. Don't ya think?



I still keep some makeup on part of the desk since half of my work consist of makeup and the other half is computer stuff.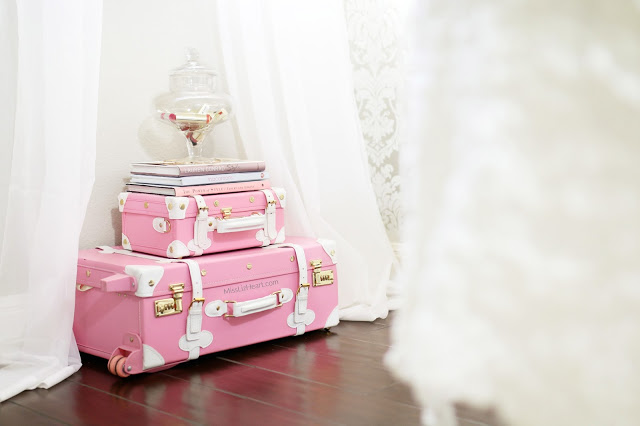 pink vintage luggage here, fashion books here, apothecary jar here
I brought back the old light up mirror and set it up on the old glass table in hopes that my desk will remain tidy even after a crazy day of filming. I said "in hopes" we will see how effective it is…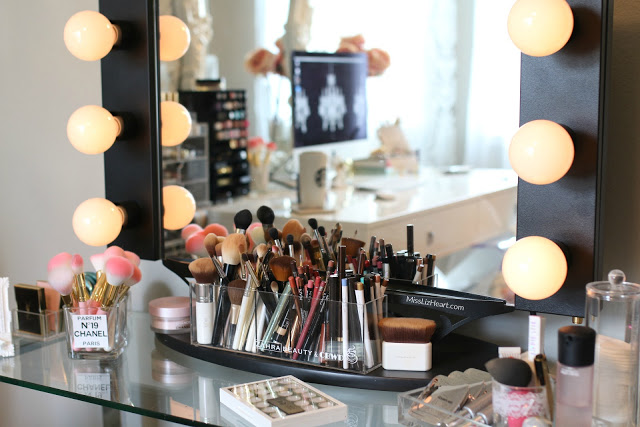 light up mirror here, Chanel holder here, pink brushes here
If you would like to see a full 360 view of this room watch the full room tour here:

By the way, I upload videos twice a week! Subscribe here so you don't miss my next upload 😀
XO Liz ♥