It's been 3 weeks since the most memorable and special day of my life. The birth of our son. Ahhh "our son"; can't believe those words (together) are now a part of my vocabulary. It's the most incredible feeling in the world…but I will talk more about that when I share my birth story; stay tuned. Today I want to go over what's in my hospital bag, what I took and what I actually used.  You can watch my video of what I packed for my delivery hospital bag here.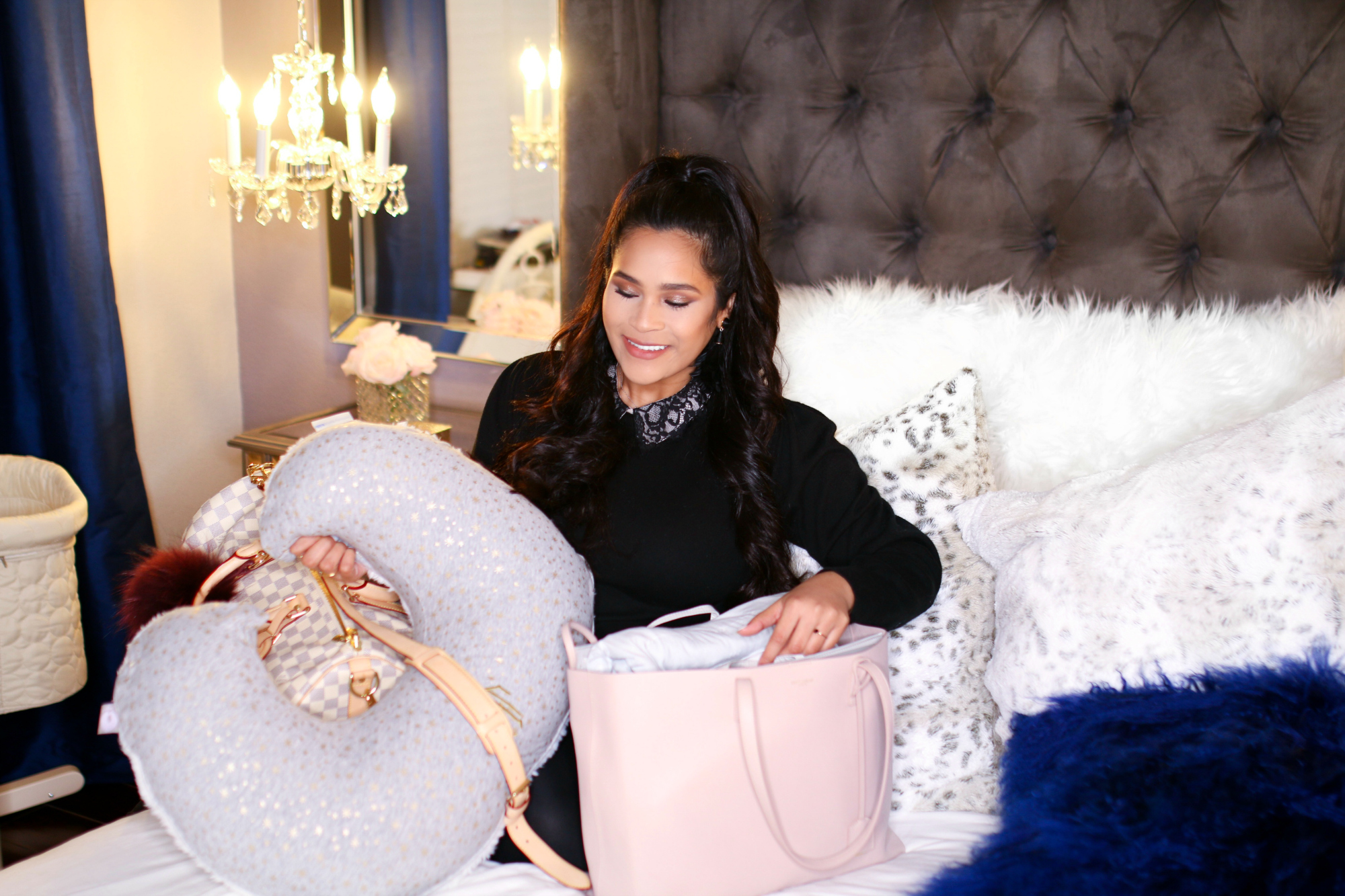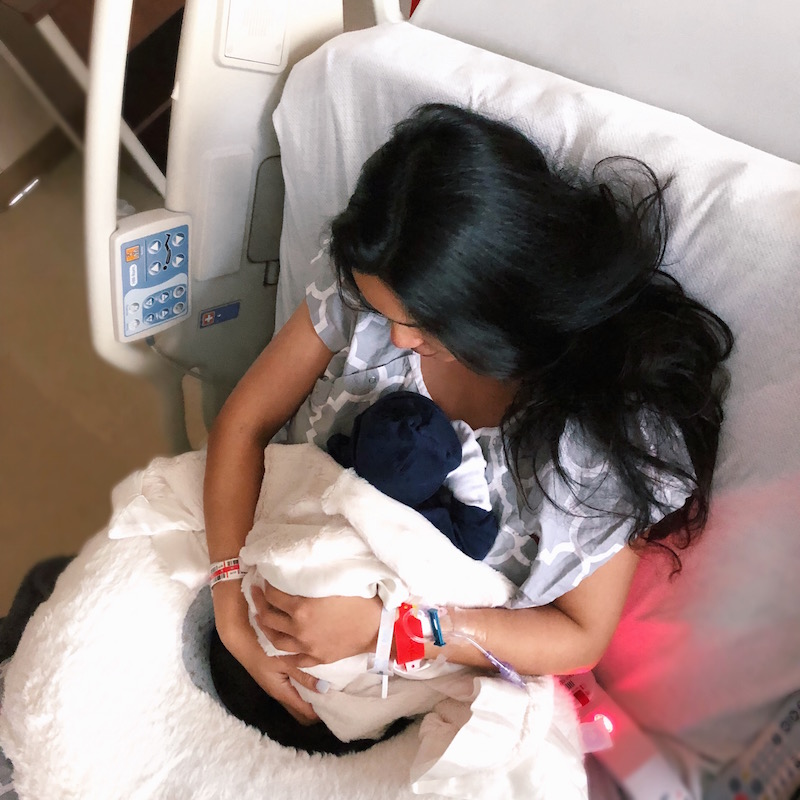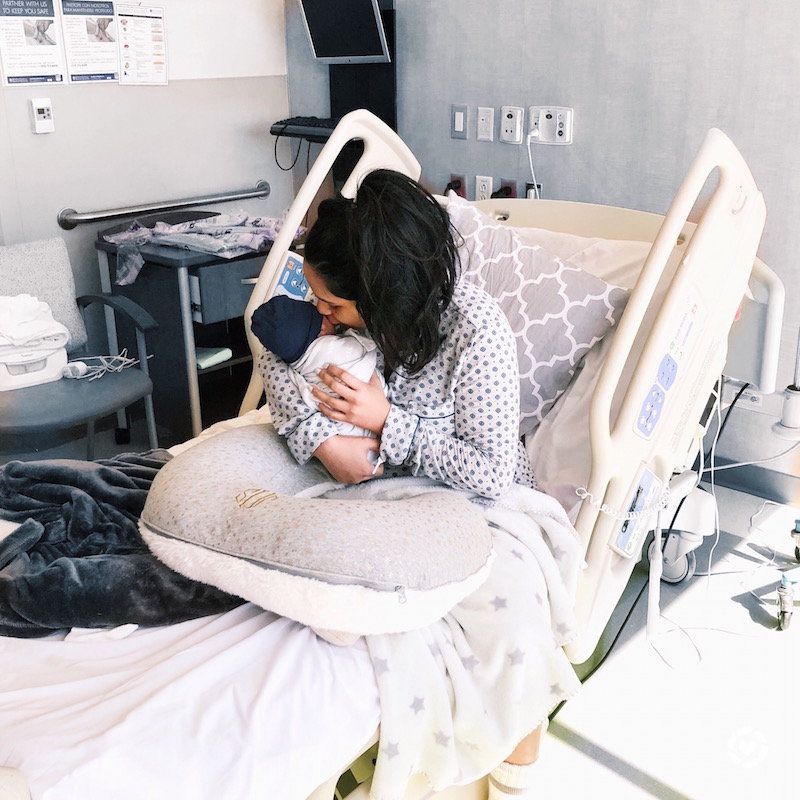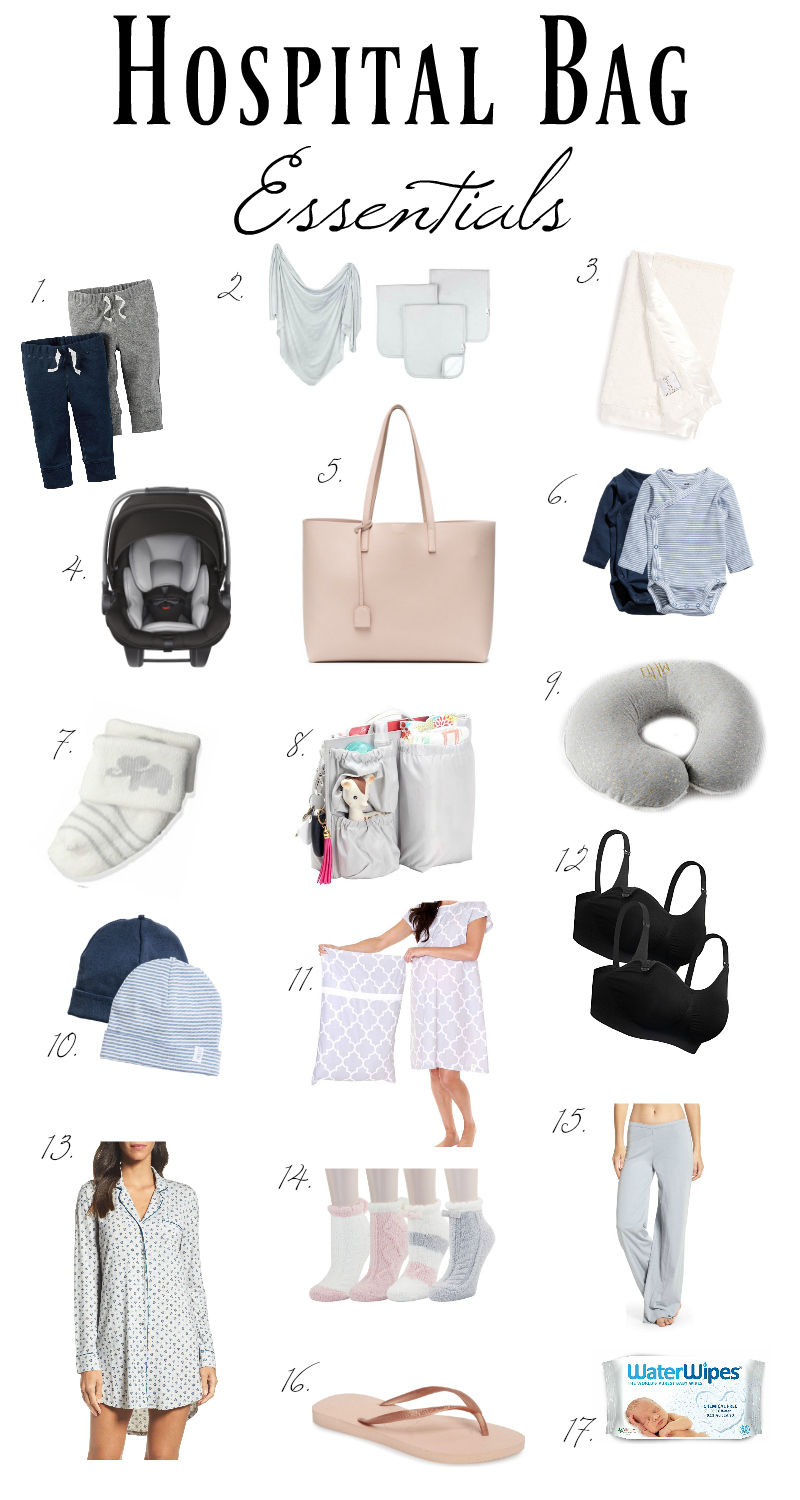 1 // 2 // 3 // 4 // 5 // 6 // 7 // 8 // 9 // 10 // 11 // 12 // 13 // 14 // 15 // 16 // 17
Mommy's Bag
Important Documents – Insurance card, ID, birthing plan (if you have one)
Hospital Gown – I absolutely loved having my own cute hospital gown to change into after surgery. The second I was wheeled into recovery I asked my hubby to help me change into it. I bought this one and it came with a matching pillow case which was a definite bonus and made for really adorable photos, if you're into that cheesy stuff :D.
Comfy PJs – I took 2 button-down shirt gowns with me and not only were they comfy for the hospital stay, they've also come in handy during my recovery because they give the baby easy access to his food supply. I love this PJ so much that I bought it in more patterns. I also took a pair of high waisted pants which I ended up wearing after my shower. These are the softest pants I own and they've also been used a ton during recovery.
Fuzzy Socks with Grip – Clearly you are starting to see a pattern here, I wanted to be as comfy as possible during my hospital stay and I was so happy I packed my own socks! The hospital actually provided these but they weren't nearly as cute or soft as the pairs that I brought. They also have rubber grips on the bottom so it made it safe to walk to bathroom.
Nursing Bras – I bought this multi pack with no underwire since I knew I would be sleeping in them. Order a size up because when your milk comes those babies will grow!
Flip Flops – You'll want these when it's time to take a shower; trust me.
Toiletries Bag – Out of everything that I packed the only things I didn't use were the nipple cream and the nursing pads because my milk didn't come in until I got home but I'm still glad I had them just in case. Here is what I did use:
Toothbrush/toothpaste
Body lotion
Hair tie
Facial wipes
Face moisturizer
Lip balm
Boppy Pillow – I knew this would be convenient for breast feeding but it ended up being extremely helpful to everyone. I used it to help support baby especially during the night feedings when I was half asleep. It took a lot of  the pressure off my c-section incision. We also used it when our family came over to visit.  We had them place the boppy on their lap and then my hubby would lay the baby on top so he was extra secure. It gave us peace of mind knowing that everyone was holding the baby properly. I bought the boppy pillow without a cover and then had this cover personalized with his initials.
Going Home Outfit – I kept it super simple and wore the same thing I wore to the hospital, these black maternity leggings and a black long sleeve top with my sneakers. I only had that outfit on for about 30 minutes before I went into pre-op.
Nice But Not Necessary
Pillow 

– This isn't essential but I loved having the extra 

support

 to sleep and back 

support

 

during

 

the

 day. If you decide to take your own pillow, make sure you don't use a white pillow case so the hospital 

does

 get it 

confused

 for one of theirs.

Towel – I actually didn't pack my own towel but my mother in law was sweet enough to bring a care package and inside was a clean large towel from home. When I saw the itty bitty (and rough) hospital towels I was so happy to have my own to wrap myself in after a much needed warm shower.
Pads – Also something that the hospital provides for you but my sister brought me some that didn't feel like I was wearing diapers. I was grateful for them.
Comfy Undies – I had actually packed my own undies but ended up wearing the ones the hospital provided. I had a c-section so I didn't want anything touching the incision and the hospital undies were large, stretchy and airy.  I actually requested a few packs to take home and wore them through recovery.
Makeup Bag – I packed the basics for a simple look and had every intention of using it but we got released early! No complaints here but I'm glad I had my basics just in case and I will totally pack a small makeup bag if there's a next time :).
Baby's Bag
Car Seat – Turns out you can't take baby home without one of these! We made sure to install ours weeks in advance to avoid any last second mishaps. We are so happy with our Nuna Pipa Lite, it is so light and easy to use and it also has some of the best safety ratings on the market, it's like they thought of everything.
Diaper Bag – I wanted a bag that would double as my bag as well so I decided to invest in this tote bag from YSL (almost identical dupe for a lot less here). I also came across this really awesome organizer that turns any tote bag into a diaper bag, it's pretty neat.
Receiving Blanket – I took this super soft white blanket, to this day it remains my favorite. It has held up really nicely through all the washes.
Swaddle Blanket – I had such a hard time  swaddling with the hospital blankets and then I remembered I had packed my own swaddle blanket. I love  this set from copper and pearl that comes with burp cloths and bibs. These are my favorite swaddle blankets because they are the softest out of all the ones I've tried and I find them a lot easier to use.
Going Home Outfit – Baby needs an outfit when he leaves the hospital so I packed a few options but also some that he could wear while at the hospital. I made sure to include socks, baby joggers, onesies, a couple of night gowns and hats. I did take mittens so he wouldn't scratch his face but I only used them for the first day, I learned that babies find it soothing to feel their own hands. The hospital provides you with clothes he can wear but I really enjoyed using my own and taking daily photos of him.
Water Wipes – The hospital provided baby wipes and diapers so we could've done without them but the water wipes that we took didn't have all the additional ingredients that the hospital wipes did so I was happy to have my own. I bought this multi pack to get me through the first 2 weeks.
Hubby's Bag
Snacks – Crackers and apple sauce provided by the hospital got old super quick so I was happy hubby had a backpack filled with my favorite snacks.
Camera – Don't forget to pack your SD card and extra battery!
Chargers – Because electronics die.
Pillow – We were lucky to have a sofa bed in our room but it had no pillows on it.
Blanket – This is another item that my mother in law included in the care package.