If you have any type of social media I'm sure you know one of the biggest sales of the year started a few days ago, the Nordstrom Anniversary Sale 2019. This sale is a huge deal because it's completely backwards than your typical end of the season clearance. Instead of waiting and putting whatever doesn't sell on sale, they start the new season off with major discounts on fall staples, and once the sale is over everything goes back to regular price. It's pretty awesome and gets me excited for my favorite time of the year, scarf, cardigan and pumpkin spice latte season (don't judge me). I uploaded a try on haul video (watch it here if you missed it) where I share the clothes, shoes and accessories that I picked up so today I will be sharing my home, baby and toddler picks.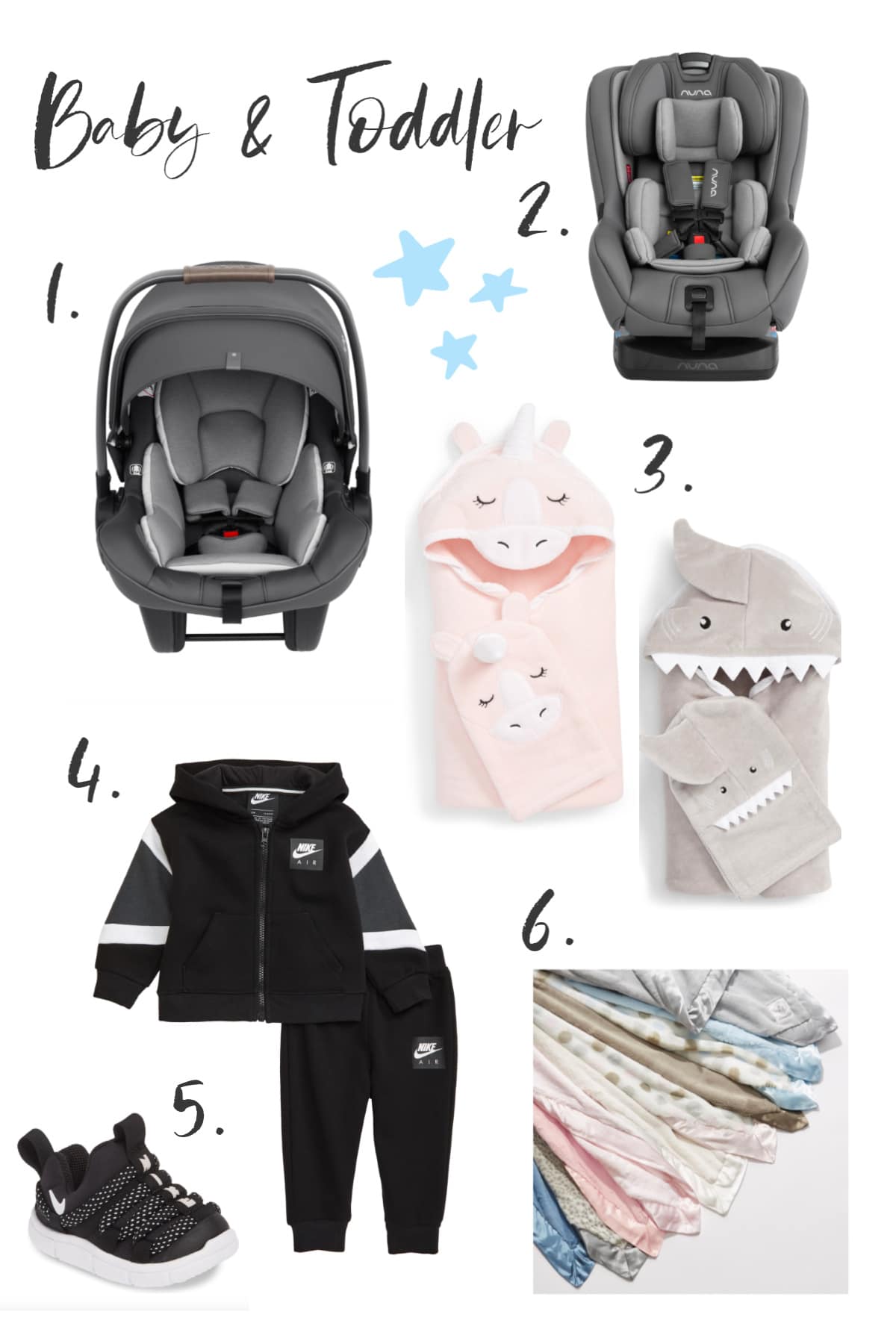 1. Nuna Pipa Lite LX Infant Car Seat – Get it here After months of research, this is the infant car seat we decided to buy for Sebastian. It is one of the lightest and safest on the market and it was so easy to carry while he napped.
2. Nuna Rava Convertible Car Seat – Get it here  After Sebastian outgrew his infant car seat we decided to switch over to this one. It has some of the best safety rating on the market and we love how easy it is to install. It also comes with a newborn attachment incase you wish to skip the infant car seat all together.
3. Towel & Washcloth Set – Get it here I just picked this up to give as a baby shower gift.
4. Nike Hoodie & Sweatpants Set – Get it here How cute is this set? I could't pass it up.
5. Baby Nike Sneakers – Get them here  Since I got the sweat pants set it was only natural that I picked up the matching sneakers for him. He has already started wearing them and they seem to be comfy and easy for him to run in.
6. Luxe baby blanket – Get it here  This is my favorite baby blanket. I bought one for Sebastian and my niece when they were newborns and I still find myself bringing it out when we read together. It comes in tons of colors too and would also make a great baby shower gift.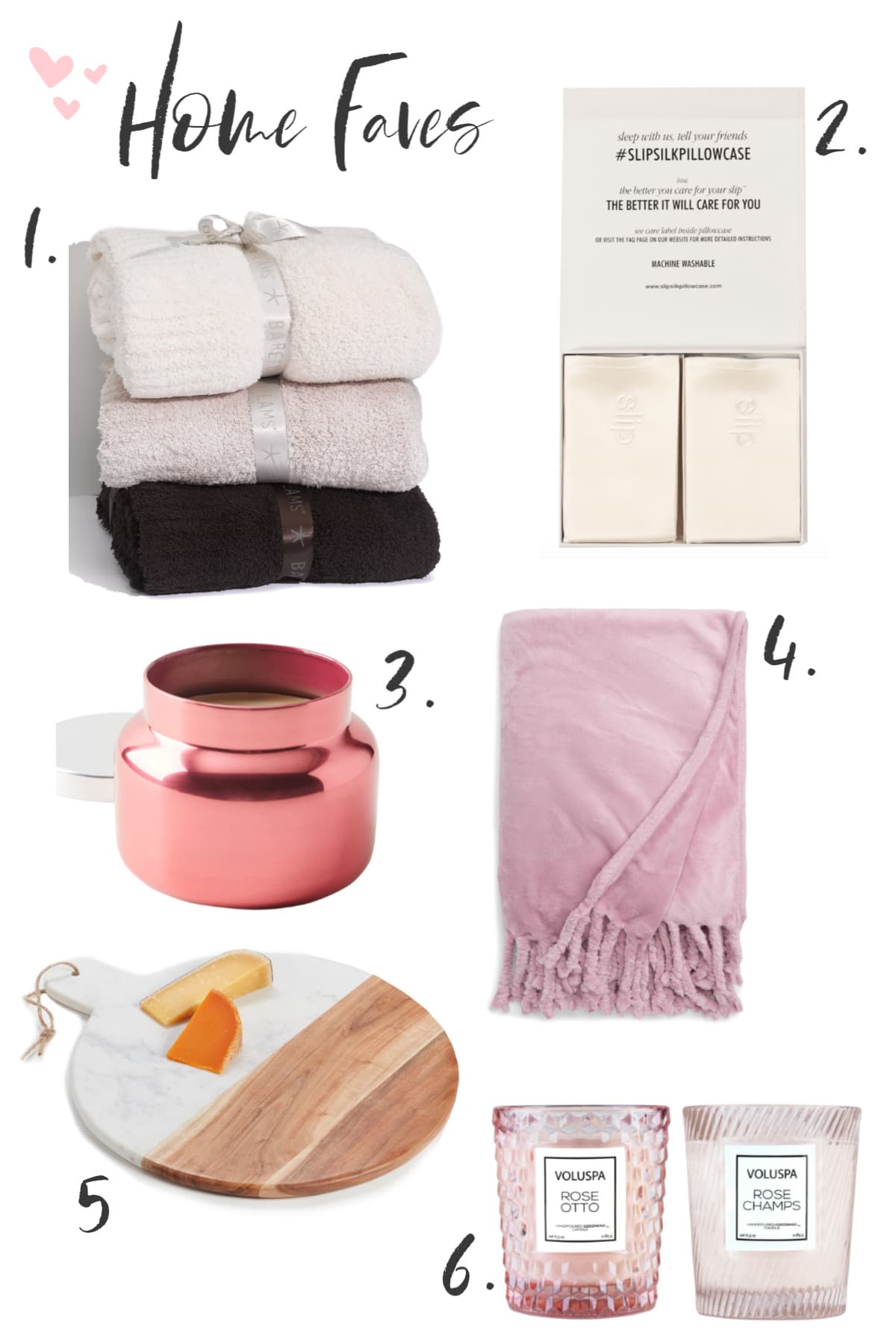 1. Barefoot Dreams Cozy Throw – Get it here Every year I treat myself to something from this line, last year I picked up their cardigan, the year before that their sweatpants and this year I splurged on one of their blankets. Please trust me when I say these are some of the softest and most plush blankets you will ever use!
2. Slip For Beauty Slip Pillow Cases – Get them here Did you know sleeping on silk can help prevent premature wrinkles and snagged hair? I love this set because it also looks beautiful with the rest of my bed spread. Yes, I also picked this up this year :D.
3. Capri Blue Volcano Jumbo Candle – Get it here  I'm sure you might be tired of hearing me rave about these Anthropologie candles. These smell amazing.
4. Bliss Plush Throw – Get it here  If you are looking for a more affordable throw that will also add a little something extra to that plain chair, then look no further! These fringe throws come in lots of different colors and they I got to feel them in store, they are very soft.
5. Marble & Wood Serving Board – Get it here  Also saw this while browsing in-store and I was surprised at how large it was. This is perfect for everyday use or for entertaining now that the fall and holiday season is slowly approaching!
6. Voluspa Macaroon Candle Duo – Get it here  Since I still have my jumbo Anthropologie candle from last year I wasn't planning on buying any more candles until I smelled these! You will be whisked away to Parisian macaroon bakery in the middle of a rose garden. At least that's what I envision when I sniff them with my eyes closed lol.
Will you be shopping the Nordstrom sale?