I spent the week organizing and decluttering Sebastian's room. I'm still in complete shock that he is about to turn 18 months, my baby is now a toddler. Excuse me, Mr. (or Mrs.) time, can you slow your roll? I started to transition his room from a nursery to a big boy room and it reminded me to compile this long over-due list of my top baby registry items. Looking back on the newborn days I would say these were my most used and helpful baby items. A lot of them we are still using the heck out of so I feel confident recommending them as newborn must haves.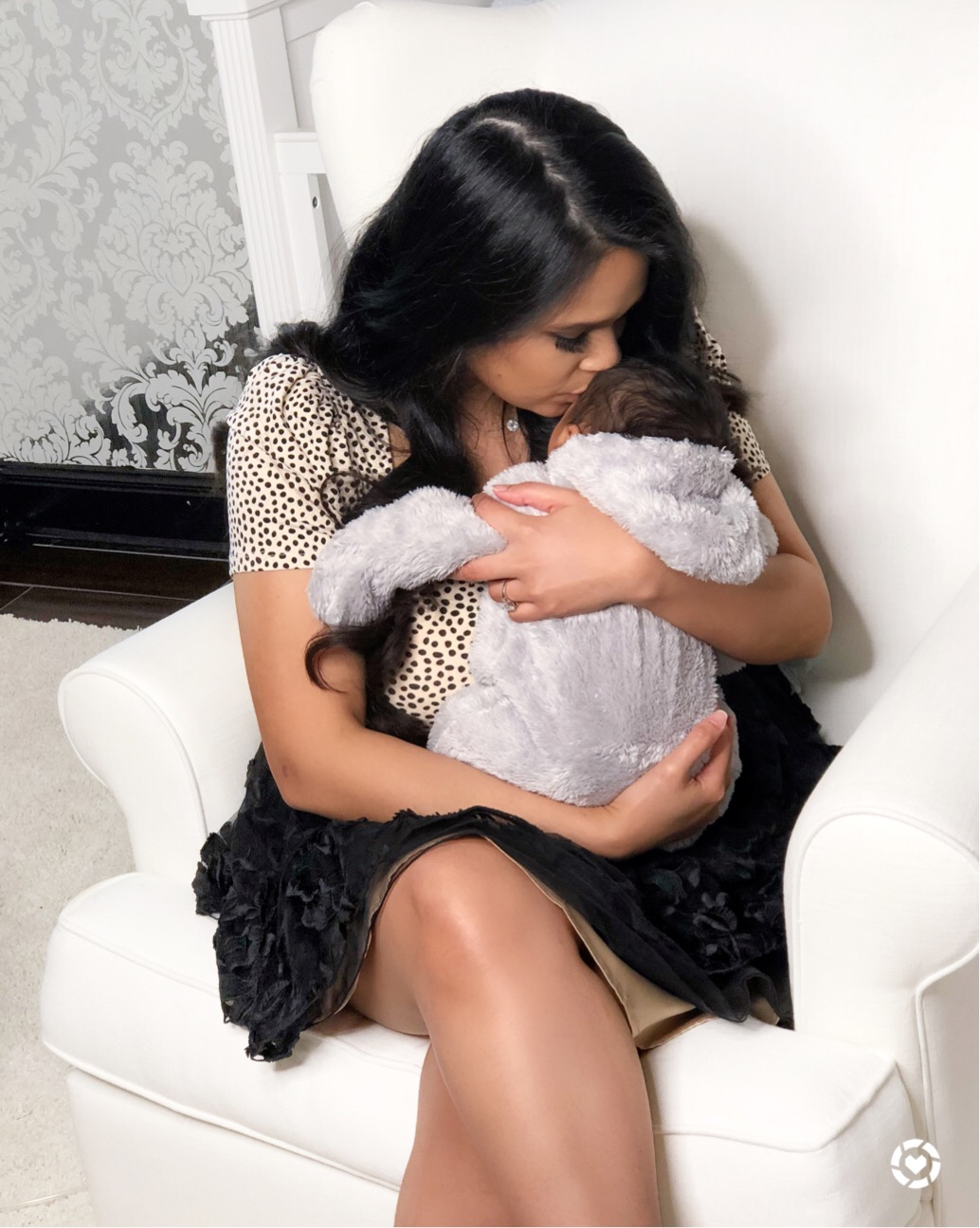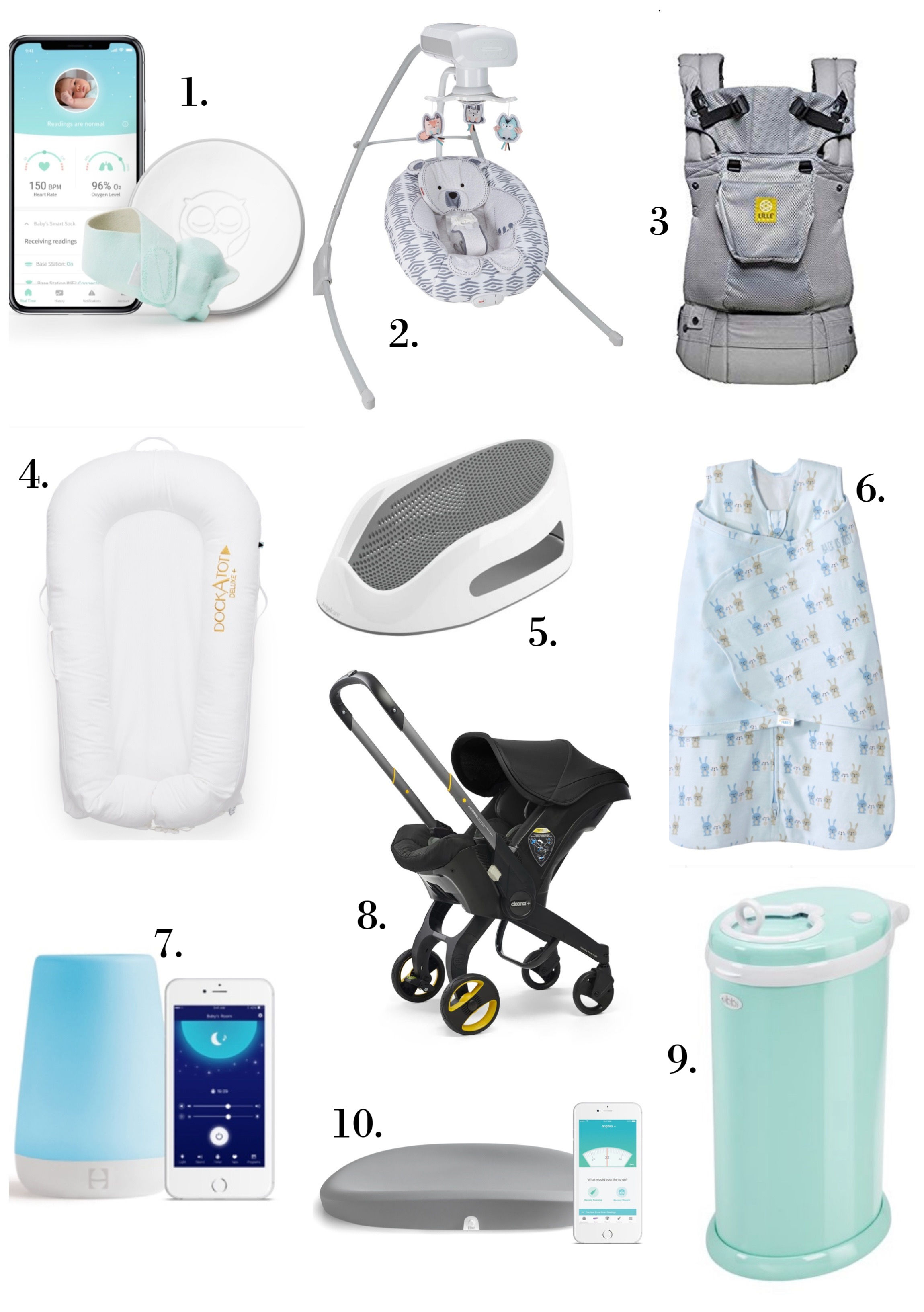 Owlet Smart Sock Baby Monitor – As a new mom, the peace of mind that this baby monitor gave me was invaluable. It monitors the babies oxygen level and will send off an alert to your phone and the receiver if it dips below a certain level. We only had one red alert go off and it was pretty scary but it also let me know if was actually working. The second the alert went I off I picked Sebastian up and he immediately threw up. I don't know if he was holding his breath and I'm not sure if the throwing up would've caused him any harm but I was thankful for this little sock.
Fisher Price Cradle & Swing – If there is one thing newborns love (aside from mommy and daddy snuggles) is to be rocked. We used this swing every single day at least once a day. It has 6 different speeds and contours perfectly to their tiny bodies and it's also super easy to take apart and clean.
Lillebaby Airflow Carrier – We tried several different baby carries and this one ended up being our favorite. We used it from the newborn stage all the way to about 12 months and we could still use it in the back carrying position if we wanted to. It's comfortable and has great back support.
Dockatot – Here is another product that we absolutely loved and used every single day until Sebastian started rolling over on his own. It's not recommended to use this as a co-sleeper but as an exclusively nursing mama I needed something that would keep him safe throughout his naps because let's be honest, there's no such thing as sleeping through the night with a newborn. It was also a great lounger when the swing was not an option.
AngelCare Bath – Originaly I thought about purchasing the really cute soft flower that I saw all over social media but then I thought about the cleaning and drying process and couldn't imagine adding yet another chore to my list. That's when I stumbled upon this and it was perfect! We already have a bathtub so really just needed something that could help me keep Sebastian safe but also was easy to maintain. It was just the right size to support his tiny body all the way until he was able to sit up on his own.
Halo Sleep Sack Swaddle – Swaddling is one of those things that your baby is either going to love or hate. Sebastian fell into the love category but outgrew it pretty quickly. This sleep sack is great for both stages! It has the option to swaddle but also to use just as a sleep sack with the arms out so it's definitely worth splurging on 1 or 2.
Hatch Baby Rest Baby Night Light & Sound Machine – If there is anything on this list that I would recommend to any mama it's this! This is a night light an sound machine all in one but what I think makes it unique is the ability to program the times it turns on and off and also the fact that you can sync it and control it with your phone. Sebastian still uses white noise to take his afternoon naps and I have it programmed to play soft music with dim light when we start our night time routine.
Convertible Infant Car Seat – I've mentioned my favorite infant car seat in the past (this one) and I still recommend it because of how light it is but this one takes it up a notch by converting into a mini stroller! If we are ever blessed with baby number 2 I will definitely be getting this for our little one. I can just imagine how convenient those quick grocery trips or doctors appointments will be when I'm alone.
Ubbi Diaper Pail – Here is another one that we are still using till this day and probably will continue until Sebastian is fully potty trained. It does a great job of containing all the smell and I love that I don't have to buy special trash bags for it. It also comes in so many beautiful colors!
Hatch Baby Changing Pad – So here's the thing, in my opinion a changing pad falls in the in between line for me. It was very convenient to have but the floor with a towel works just fine too. So I say if you are already planning on getting a changing pad this is the one I recommend, it's soft, easy to clean, AND it has a built in scale that can keep track of your baby's weight. We love ours so much and still use it every day!.
So those are my top baby registry items! Do you have a top baby registry item that you recommend to new moms? Leave it in the comments and until next time!