Hello loves! There are two things that I absolutely love doing, 1. Playing with makeup 2. Organizing
and I was able to do both this week!
Over the weekend the house was a complete disaster because we had new floors installed in all of the carpeted areas (my makeup room was one of them). The floors turned out beautiful (incase you were wondering 🙂
Since everything had to be taken out of my makeup room it was the perfect opportunity to do some reorganizing. I started with my vanity – everything else is still a disaster lol.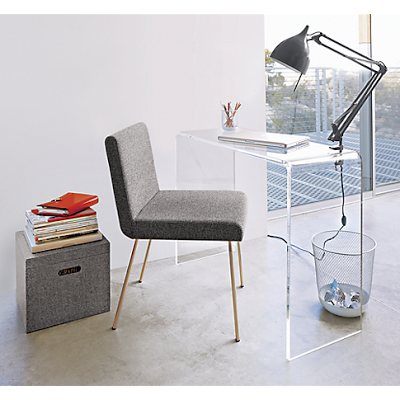 This one is from CB2
What do you guys think?
I like the first one because it is large enough to hold all of my makeup and my humongous mirror but second one is just so sleek and would really open up the space.
It holds so much and lets face it, its beautiful to look at!
I could't find a good place to store all of my tube lip glosses and balm so I decided to display them on a cute dish. Don't mind the brush – it's just there for looks 😉