Hi guys! The holiday season is right around the corner and today I'm sharing 3 easy recipes that you can either take to a party or make at home. There is also a video at the end of the post in case you want to see each recipe in action.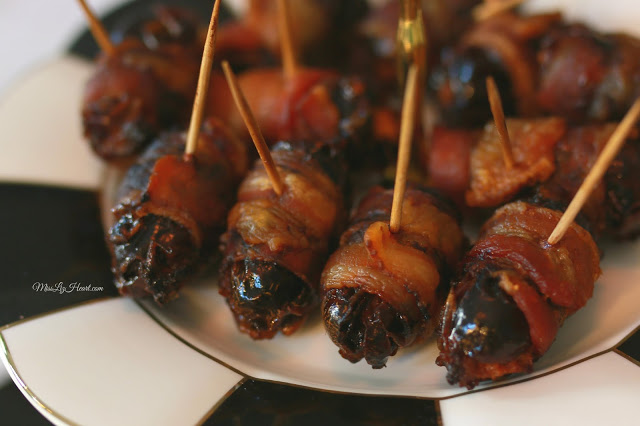 GOAT CHEESE BACON STUFFED DATES
Serving Size: Party Size (12-16)
Ingredients:
– 48 Fresh Dates
– 8oz of Goat Cheese
– 16 slices of Bacon (1 slice makes enough to wrap about 3 dates)
– Toothpicks
Instructions:
1. Preheat oven at 375 degrees
1. Slice on side of the date and remove the pit
2. Stuff the date with desired amount of goat cheese
3. Wrap each date one and a half times with bacon and secure with a toothpick
4. Bake for 15 minutes(or until crispy) then turn them over and bake for another 15 minutes.
5. Plate and watch them disappear within seconds!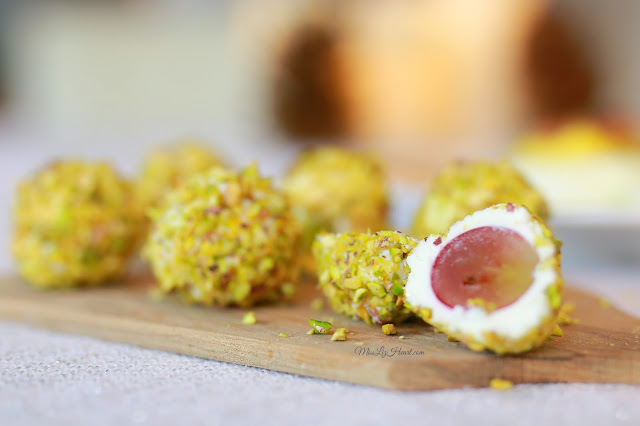 PISTACHIO GRAPE CHEESE TRUFFLE
Serving Size: Party Size (12-16 serving)
Ingredients:
-2 cups de-shelled and roughly chopped pistachios
-8oz of goat cheese
-8oz cream cheese
-48 seedless red grapes
-clear plastic wrap
Instructions:
1. De-shell the pistachios and give them a rough chop
2. Mix room temperature cream cheese and goat cheese in a bowl
3. Use plastic wrap to coat 1 grape at a time and gently shape the cheese to completely coat the grape forming a tiny ball
4. Roll the cheese ball in the chopped pistachios
5. Chill for at least 30 minutes or overnight before serving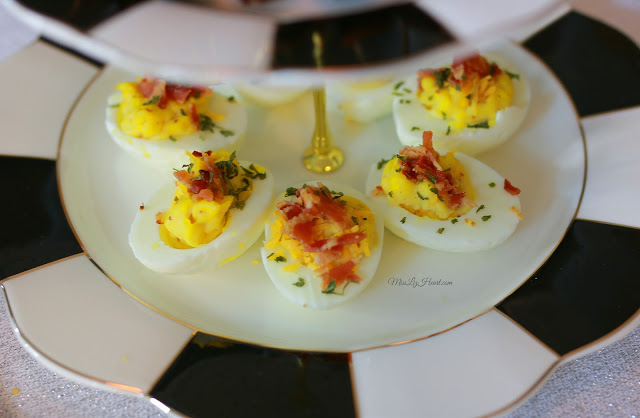 BACON & CHEDDAR DEVILED EGGS (Party Size)
Ingredients:
– 12 Eggs
– 1/4C Mayo
– 1/4C Sour Cream
– 1T yellow mustard
– 1 1/2T cheddar cheese
– 4-5 slices of crispy home-made bacon
– green onion for garnish
Instructions:
1. Boil eggs and let cool
2. Peel boiled eggs slice them in half, remove the yolk and set aside
3. In a bowl combine eggs yolks, mayo, sour cream, mustard and 1T of cheddar cheese
4. Pipe or spoon egg yolk mixture into egg whites
5. Top with crumbled bacon, the remaining cheese and garnish with green onions
6. Serve hot or cold
Watch the video to see each recipe in action!
XO Liz ♥